Pet Owner Delights TikTok With Adorable Protection Dobermans
A woman who bought two dogs for protection has delighted TikTok users after teasing that her canines are more "derpman" than Doberman.
Pet influencer Celine Tran, 24, who lives in Irvine, California, has amassed a huge 1.4 million followers on the platform by sharing footage of her 17 pets, including snakes, spiders and cats.
But two of her most popular animals are adorable European Dobermans, Katana, 3, and Draco, 2, who she purchased for protection when she first moved out of her family home.
The dogs have become stars on social media, with Draco boasting his very own Instagram profile with over 25,000 followers.
Speaking to Newsweek, she said: "Ever since I moved out I have always wanted a dog that I could do dog sports with as well as personal protection.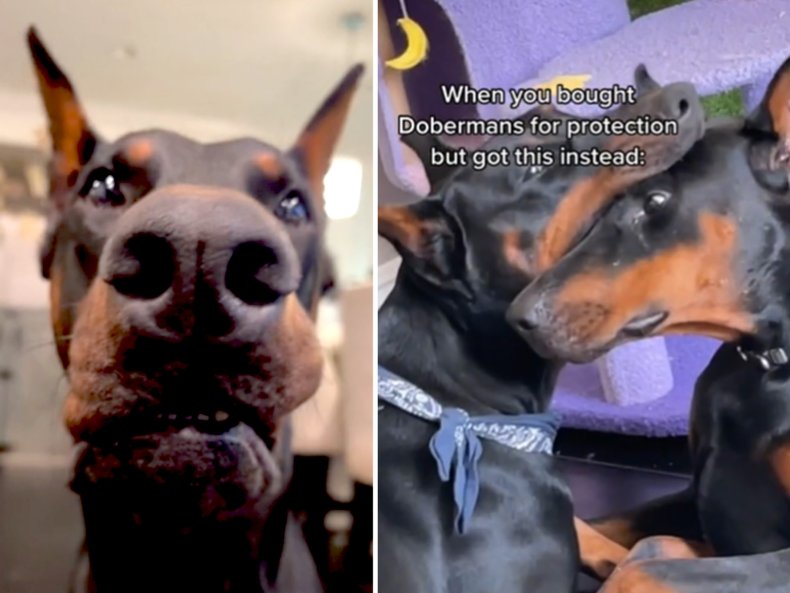 "Being a women and going places alone can be scary at times so I bring Draco pretty much everywhere, that allows dogs, with me. He makes me feel safe and it gives me a piece of mind."
Celine Tran said she would "definitely" encourage women to purchase breeds suitable for personal protection training for safety purposes.
"As long as you do your research beforehand and look into a breed that fits with your lifestyle they can be an amazing addition to your life," she explained.
One clip, shared to her celinetails TikTok page, which has gained over 3 million views, shows the dogs gently mouthing each other, playfully tugging a cuddly toy and one of the pooches chasing his own tail.
Social media viewers were enamored by the adorable footage, with several taking to the platform to comment on the "beautiful and sweet" pooches.
"They are literally the sweetest, most loyal dog breeds. I love mine so much", wrote one user.
"They are so beautiful and give you lots of laughs that are more important than personal protection", commented another.
"OMG YES!! My dobie is such a goof", said a third user.
The Doberman breed was developed in ​​Apolda, Germany, by Karl Friedrich Louis Dobermann, a tax collector and keeper of a dog pound in the late 19th century.
Dobermans were introduced in the U.S. and U.K. from Germany in the early 1900s and earned a reputation as trusted guard dogs, known for their fearlessness, intelligence and loyalty.
According to the American Kennel Club, Dobermans stand between 24 to 28 inches at the shoulder and are among the world's best protection dogs.
Celine Tran said that both Draco and Katana friendly and well-behaved at home, explaining: "They are both extremely well tempered and they know when it is 'quiet time'. They usually just follow me around the house everywhere!
"Whenever I bring out Draco's harness he knows it's time to work and he kind of flips a switch! Its amazing to see in person. Whenever he's working I always get so amazed that this is the same chill dog in my house!"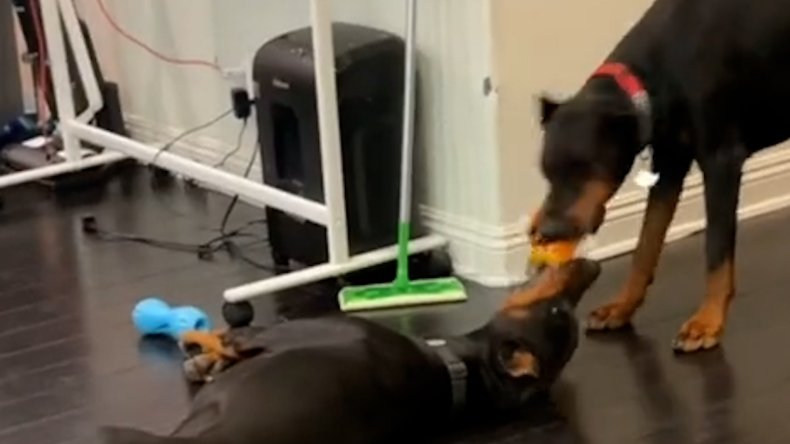 She said that despite their "negative breed stigma" because of their breeding, Dobies' behavior depends on their owners and training.
"They are naturally wary of strangers and are always on alert mode," she said. "At the end of the day they are working dogs and they aren't for everyone.
"Backyard breeders are watering down the breed and are producing Dobermans that are extremely anxious and reactive.
"I believe that any dog can be labeled as 'dangerous' however it boils down to how much training and time you're willing to spend with your dog."
Full-time college student Celine Tran, who boasts ​​over 95,400 followers on Instagram, has enrolled Draco into personal protection training, which provides canines with obedience training and behavior modification.
"Draco is currently going through personal protection training! He started as a pup and is currently on the way to get his titles in bite work competitions," she said. "He has a high drive and loves to work."
But she explained that her other Dobie is more mellow: "Katana on the other hand is more on the chill side and enjoys scent work and obedience.
"I do want to mention that not all Dobermans can do protection training. It really depends on their temperament and genetics and pedigree as well. Draco comes from a long line of working dogs and he was also temperament evaluated before doing any bitework training."
Do you have funny and adorable videos or pictures of your pet you want to share? We want to see the best ones! Send them in to [email protected] and they could appear on our site.